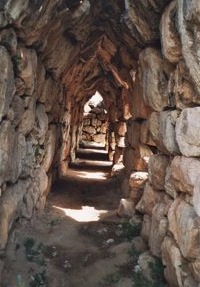 Karen A. Smyers was born on Halloween in 1954. After majoring in Religion at Smith College, she spent her pre-graduate school years working for the U.S. Congress, in the Dean's Office at Smith, and teaching English and studying Japanese in Japan. After receiving her Ph.D. in Anthropology from Princeton University, she taught in the Religion Department at Wesleyan University for 8 years offering such courses as "Death and the Afterlife in World Cultures," "Magic, Science, and Religion," and "Imagining the Other: Alterity Theory in Religious and Anthropological Perspective." Her book, The Fox and the Jewel: Shared and Private Meanings in Japanese Inari Worship, was published by the University of Hawai'i Press in 1999.


In the fall of 2001 Karen went to Zürich, Switzerland to study at the Jung Institute. During her time there, the Institute underwent a crisis and split into two. Karen studied at both schools, and her diploma is from ISAP, the International School for Analytical Psychology. The program, which took six years to complete, requires 300 hours of personal analysis, two years of coursework followed by qualifying examinations, 300 hours of supervised analysis with clients, final exams, and a thesis. Her thesis continued her fascination with the "foxy" aspects of cultures, humans, and the psyche, and is called, "The Canny Feminine: The Conscious Union of Eros and Logos."

Karen has moved her private practice from Zürich to Northampton, Massachusetts. She is a member of the international Jungian associations IAAP and AGAP (see "Links"), and the New England Society of Jungian Analysts (NESJA). From April 2009 to December 2011 she served as the President of the Jung Center of Western Massachusetts.

Some Available Lectures and Workshops:

--The "Canny Feminine" as Alternative to the Heroic Masculine

--Women's Wisdom in Fairy Tales:
--Snow White
--The Handless Maiden
--The Workings of the Trickster

--Shamanic Healing in Japan

--The Sacred Japanese Fox

--The Power of Isis

**Dream Groups

**Psyche and Cinema: Mythic and Archetypal Themes in Film